The Social Studies Department of Richmond County School System presents "Taking Notes: Jazz and the American Story". The presentation is a product of a partnership between the Richmond County School System's Curriculum Department and Garden City Jazz.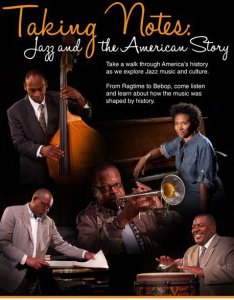 The purpose of this program is to provide students with an engaging learning experience that appeals to them visually and musically and helps them make the connections between what was going on in America and how those changes were reflected in a music that is often described as "the sound of democracy". Too often, students are presented with history from the page of a textbook, but history is most interesting when it is told as a story…and it is even more powerful when primary sources such as photographs and music are included in the story.
Taking Notes: Jazz & the American Story takes the audience on a journey through time, revealing the connections between major events in American history and Jazz's evolution since the 1700's. The presentation includes a 4 piece jazz ensemble which includes two members of James Brown's band. The presentation concludes with a segment that explains the connection between Hip-Hop and Jazz music…presented by DJ Big Meal from Bronx, NY.
The presentation is narrated by Andre Mountain, the Professional Learning Specialist for Social Studies. For additional information, please contact Mr. Mountain at 706-306-4290.
2013 PRESENTATION SCHEDULE:
Feb 5 – Augusta Technical College (Main Campus)
Feb 12 – Augusta Technical College (Waynesboro Campus)
Feb 19 – Augusta Technical College (Thomson Campus)
Feb 19 – University of South Carolina Aiken
Feb 27 – Aiken Technical College
2012 PRESENTATION SCHEDULE:
Jan. 17 – Davidson Fine Arts Magnet School
Feb 2 – T.W. Josey High
Feb 7 – Butler High School
Feb 9 – Hephzibah High
Feb 14 – A.R. Johnson Magnet School
Feb. 16 – Lucy Laney High
Feb. 23 – Tubman Education Center
Feb 27 – Grady High School (Atlanta)
Feb. 28 – Academy of Richmond County
Feb 28 – University of South Carolina at Aiken
Mar 1 – Westside High
Mar 26 – Wesleyan College (Macon)
Sep 16 – Arts in the Heart of Augusta Festival
Nov 11 – Second Baptist Church (Aiken)
MEDIA LINKS:
Josey High School students get a lesson in history, taught through music Feb 2, 2012
Taking Notes: A new media approach to Black History Month Feb 27, 2012