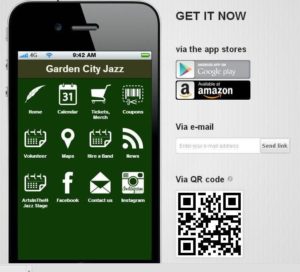 Find the latest in jazz news, events, and programming in the area by subscribing to the GardenCityJazz mobile app – available on Google Play, the Apple Store, and Amazon on August 1 – just in time for festival season and the new arts calendar listings.
At your fingertips, you may hire a band; sign on to
volunteer; find the local jazz calendar, discount tickets and merchandise; and a personal favorite, view the performance lineup for the new JAZZ STAGE at Arts In The Heart of Augusta 2014.
The website reads, "We are artists and arts supporters who appreciate jazz music of all forms. It is our goal to CONNECT: PROMOTE: DEVELOP. To connect players to new audiences. To promote great performances. To develop meaningful programs."
Director Karen Gordon states, "The @gardencityjazz app enables visitors to Augusta and Aiken to find a nice restaurant or concert with live music, whether they're planning long-range or last minute. It's important to us that we continue to promote other venues and performers in addition to our own – this is what genuine community-building is about."
Garden City Jazz presents several programs annually in the Greater Augusta Area, providing performance opportunities for area jazz musicians and music students, while promoting awareness of the historical
and cultural significance of jazz music.
Please contact us if you've questions about our events – sponsors, vendors, talent, etc. Thanks for your support, and, in the interim, please visit our mobile website at http://gardencityjazz.mobapp.at
#jazzlives #gardencityjazz #music