Live Jazz. Lovely People.
What is JazzSoirée…? Think pop-up jazz club hosted in non-traditional spaces like public parks, private homes, or corporate offices. Touring the state of Georgia in Spring and Summer 2016. Complete the form below to be notified when JazzSoirée comes to your city.
Augusta GA (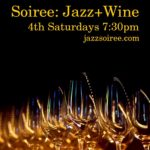 tickets)
January 23, 2016
February 27, 2016
---
JazzSoiree will announce its 2016 Georgia Cities schedule on December 15. Complete this form to receive advance notification.