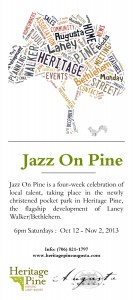 Garden City Jazz presents Jazz on Pine, a four-week celebration of local music and art, taking place in the pocket park at Heritage Pine in beautiful historic Laney Walker Bethlehem community in Augusta, Georgia.
Join us for free concerts 6:00 pm Saturdays
October 12: Doc Easton Smooth Jazz
October 19: Jerusalem Sounds
October 26: Joe Collier & Friends
November 2: Tim Sanders & UNITY.
Location: 1229 Pine Street (off Laney Walker Boulevard)
Info: (706) 821-1797.