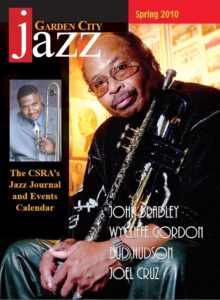 Spring 2010.
Nearly three years ago, over coffee at The Metro in downtown Augusta, I had a conversation with a friend about the possibilities for jazz in Augusta. We had not spoken in months, but our paths seemed to cross at just the right time – just in time for me to recharge the batteries and head out with a fresh sense of purpose and positive perspective. After exchanging pleasantries, we'd go on and on about the dearth of classic jazz venues and the scarcity of appreciative, listening audiences in town. From there, he'd reminisce about Le Café du Teau and Tribute Nights at BL's, and I'd talk about the Word of Mouth Café  and D. Timm's – all live jazz venues that no longer exist.
The question "What can we do?" is usually left unanswered, but not so this time. Having managed a newspaper for nearly 20 years, my friend proposed that we publish a journal, and focus on the Augusta jazz scene. In this journal, he suggested, we would feature jazz artists, educators and events on a quarterly basis. I saw this as an opportunity to foster a spirit of cohesiveness and mutual support within the jazz community. I was primed for this new challenge, just having severed a musical partnership that I'd nurtured for greater than ten years. But the timing wasn't yet right.
We kept in touch ever so often, and then, late last year, I proposed that we move forward with this project. For several months now, we've been trying to determine what Augusta jazz looks and feels like – working to craft a journal dedicated to the music and those who listen to, love, perform, and teach it. We are eager to present information about the culture as it relates to the Central Savannah River Area. We are honored to feature performers, educators, composers, students, and business owners. We're really excited about it.
Thanks, Fred Benjamin, of TRIBe Media Services, for your invaluable counsel and patience. Looking forward to the journey.
karengordon, GardenCityJazz
*click image to view/download PDF file.