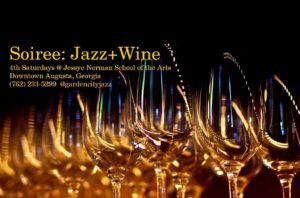 4th Saturdays in 2014
7:30pm
Jessye Norman School
739 Greene Street
Augusta Georgia
Live Jazz. Lovely People.
RSVP only through summer of 2014.
The event begins at 7:30 PM, and features classic jazz music performed by the area's top artists, various wines selected by the host, and light eats provided by Augusta's finest chefs. All presented with state-of-the-art sound and lighting in a beautiful, historic building. Dress like you mean it.
Complete 2014 Schedule:
January 25 – Buzz Clifford Trio
February 22 – Rob Foster
March 22 – Not Gaddy Trio
April 26 – A Step Up
May 24 – 4 Cats in the Doghouse
June 28 – B. Courtland & Friends (RSVP)
July 26 – Augusta Big Band Aggregate (RSVP)


August 23 – 3 Sides of Jazz ($7 cover)
September 27 – Travis Shaw 3 ($7 cover)
October 25 – UNITY Jazz ($7 cover)
November 22 – Dennis DiSano ($7 cover)