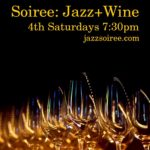 August 4, 2015 – Changes being planned for Soiree: Jazz+Wine event
Since January 2014, the team has presented a monthly straight-ahead jazz concert downtown at the Jessye Norman School, http://www.jazzsoiree.com. We've incorporated nearly all of the Greater Augusta area bands that are performing classic (& mostly acoustic) jazz music.
We're looking to switch that up a bit in 2016 – perhaps by building a house band that plays for every Soiree, incorporating a musical theme, etc. We're open to the possibilities, so let us know what you think.
In the interim, check out the line-up:
2014
January 25 Buzz Clifford Trio
February 22 Rob Foster
March 22 Not Gaddy Trio
April 26 A Step Up
May 24 4 Cats in the Doghouse
June 28 B. Courtland & Friends
July 26 Augusta Big Band Aggregate
August 23 3 Sides of Jazz
September 27 Travis Shaw 3
October 25 George Sykes 3
November 22 Dennis DiSano
December 27 Karen Gordon (no tix being sold)
2015
January 24 Henry Johnson & 3 Generations
February 28 Edwin G. Hamilton Trio
March 28 Amos Hoffman
April 25 Matthew Whittington 3
May 23 Dr. Martin D. Jones
June 27 Tim Sanders & Unity
July 25 Doc Easton
August 22 quietSTORM
September 26 Donald Macey
October 24 KPetersen + MAiken (Gypsy Jazz)
November 28 Paul Roberts
December 26   KGordon