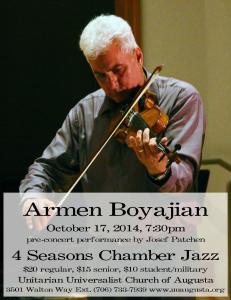 Four Seasons is a four-event concert series, with each concert ranging from Latin jazz, to vocal standards, to Dixieland.
Four Seasons Chamber Jazz – a musical celebration of art in nature.
Artists will perform several selections representative of the season.

October 17: Armen Boyajian
January 9: Matt Shevitz Plays the Music of Blue Note Records
April 17: Dr. Robert Foster
Tickets at the door: $20 General admission, $15 Senior admission, $10 Student and Military admission.
Buy tickets for 4 Seasons Chamber Jazz Series